Packing tips
Comprehensive Packing Guide for Easy and Enjoyable Travel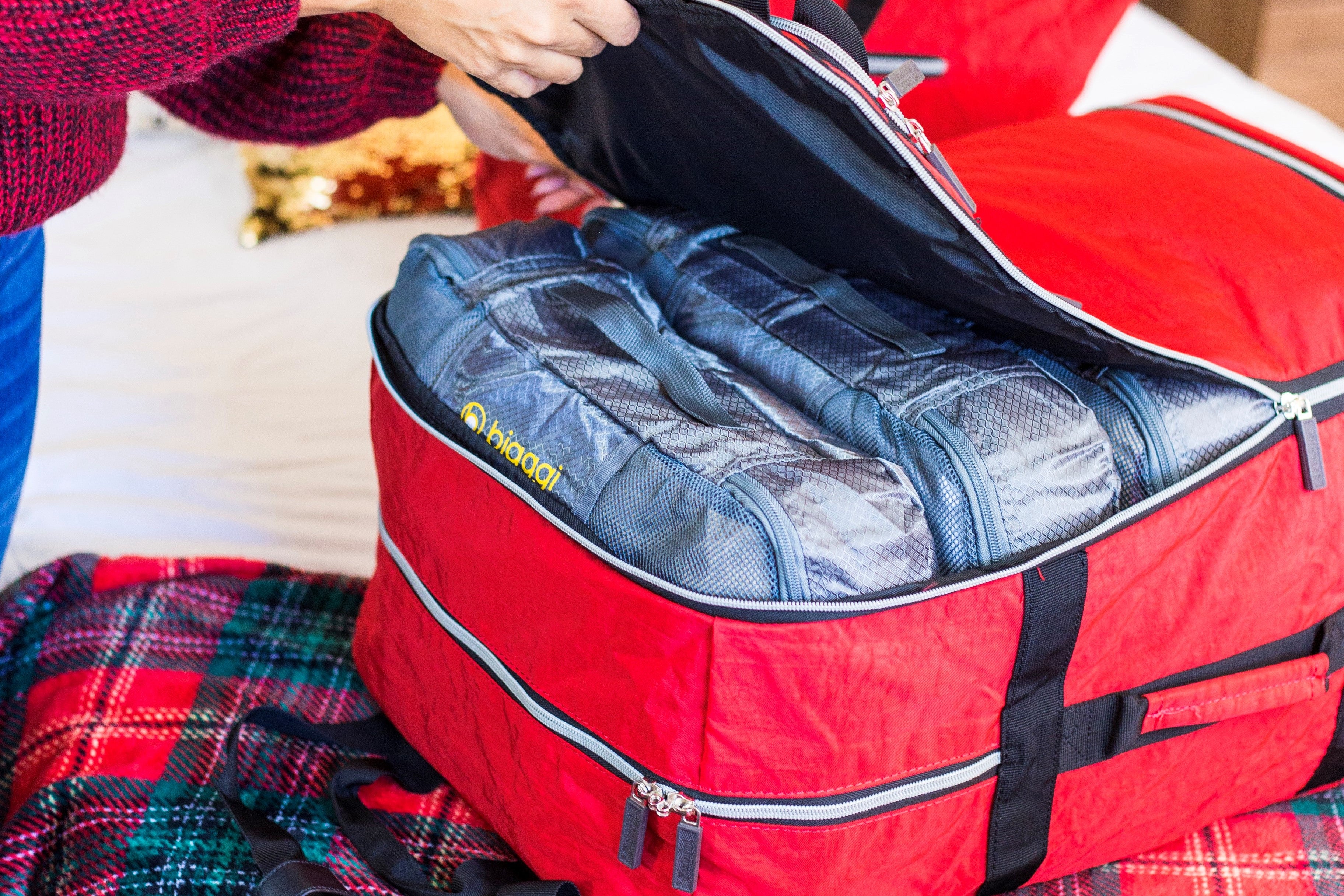 With a packing guide, one can find travel more enjoyable and fun – and less than a chore. When it comes to traveling, it is essential to be organized by planning well and packing well. Preparation and following a guide is key to having all that one will need neatly organized and ready whether a short trip or long vacation.
Packing Guide Necessities Prior to Filling Bags
Before worrying about filling luggage one should make sure to have important items together and ready to go. This is a vital part of the packing guide for a stress-free trip.
For a busy, fun-filled, trip one should have a wish list itinerary planned to stay on schedule for what all the travelers would like to see and do. If pre-purchasing tickets for attractions, it will be particularly important to have a schedule planned – although it does not mean that one cannot veer off and change itinerary if some other exciting to-do things come up.
Make copies of the itinerary for each traveler as well as an extra to keep in luggage pocket.
If flying to destination be sure to confirm flights the day before and all flight tickets include seat assignments (unless seats are to be assigned at the gate). Assure that electronic boarding passes have been sent to phone. It is handy if tickets and boarding passes can be printed out as well for travelers to have copies on hand.
When travel involves bus, train and boat one will want to be well prepared by printing tickets and receipts to keep in personal travel tote bag or backpack. When needing to transfer from one vehicle to another printed receipt can serve as an aid to show when language may be a barrier to verifying one is on correct path. 
Driving License - or another acceptable ID form
A driving license is vital for not only renting a vehicle but also as an accepted picture ID at airports and other entries. It is important to note that U.S. citizens must have a REAL ID-compliant driver's license, or another acceptable form of identification, to fly within the United States by Oct 1, 2020.
When traveling to another country one must have a valid passport. Be sure to renew passport a year before it expires to assure that it is always valid for travel. Keep the passport protected in a cover that can also serve to keep other important documents, license and credit cards as well if needed.
There are certain countries that require one to have a visa to enter. One should verify if a visa is needed for their travel before flight is even booked. Applying early for a visa will assure that one will get it in time to book a flight for a trouble-free excursion to a favored destination.
Making and having one's hotel reservations ahead of time will assure that one gets a hotel for the best price, as well as having a place to rest a travel-weary head. Print out any hotel confirmations to keep in personal bag. This will make check-in easier and have an address to show a taxi or shuttle driver.
When cruising, or traveling to a faraway land, one may want to get travel insurance. Be sure to get a comprehensive plan that not only covers interrupted travel but also covers health-related issues that could be costly when in another country or out to sea.
Some exotic destinations may require one to have certain types of vaccinations. Be diligent in finding out exactly what vaccinations are needed and go to a medical facility that can properly fulfill injection needs for travel.
For some taking prescribed medications can be as serious as the difference between life and death. Make sure to always have a copy of prescriptions from the doctor to take with when traveling. Also, check laws about traveling with medications when traveling to different countries to assure no issues when passing through customs.
For serious allergies to food, drugs, etc. one should travel with an allergy card to make sure one always has it available to view. This can be shown to restaurants when needing to make sure certain ingredients will not be used when preparing a food order. One can get a translated allergy card to make sure it is understood in a country speaking another language. 
Digital Copies of Documents
For extra protection before heading out on excursion one should scan or take photo of driving license or ID, passport, visa, credit cards, insurance documentation, and any other vital documents. Save the scanned PDFs and jpeg photos placed in an email draft to be retrieved easily from any device. This way if anything is lost or stolen one has proof to show to help get assistance. One should also have relevant bank and credit card phone numbers, along with any other important contacts, placed in an email draft as well.
Keep copies of air and travel tickets, along with hotel confirmations, insurance information, prescriptions, allergy card, and any copied documents in an easy to access pocket it a personal travel bag that is small enough to carry on to a plane and placed under seat.
Packing Guide Lifestyle Essentials
In today's world, one needs to stay connected. This means assuring that phone and computer are always with us. To be comfortable when traveling one will want make sure to bring lifestyle essentials as per one's personal packing guide requirements. 
The smartphone not only allows one to always have communication with others, but it also is a useful for accessing email and saved documents in email. Phones also have apps available to aid in language translation, serve as guidebooks, and help with time and money conversion.
Make sure to have charger cable and charger USB adapter for quick charging. It is always a good idea to have an extra phone charger that can be kept in luggage in case one breaks or gets lost.
Tablet or Laptop with Charger
Traveling with a tablet or a laptop can serve as a way to stay amused with streaming services and downloaded entertainment. These devices are also useful to do searches for travel information such as hotels and attractions.
As with the phone, be sure to have the charging cable as well to keep the devices charged up.
For long days, a power bank can serve as a useful tool when needing to charge a phone on the go.
Electronic Plug Converter
Different countries have their own types of electrical plugs. Bring along at least one converter that will work to plug-in devices for charging and using.
Earphones or headphones serve to not only deliver audio but also to help shut out the outside world when trying to rest during travel. Invest in a noise-canceling type of earphone to pack in the personal bag.
Have cash available for small purchases and tips. When traveling to a different country one can often convert in an airport if necessary.  
Assure that all issued cards are not to expire during time of trip. Contact bank via phone or online to report travel itinerary to prevent cards from being blocked for fraud when being used in another country, state. or province.
When traveling abroad think about investing in a card that limits fees and gives travel benefits.
Guide for Luggage and Packing Accessories
Travel, especially by plane, can be easy if one has the correct luggage and packing accessories to keep clothes and items neatly organized and packing optimized. A packing guide includes choosing the right luggage and accessories for travel.
When flying understand the airline's requirements for sizes pertaining to carry on, personal item and check-in items. Note that travel outside the U.S. tends to be much stricter in keeping to maximum sizes. In the U.S., generally, the maximum dimensions for a carry-on bag are 9-inches by 14-inches by 22 inches. Check-in bags have a weight restriction of 50-pound or less.
Most airlines allow for one carryon that will fit in an above bin, along with a personal item – such as a tote, laptop bag, backpack or pocketbook.
Biaggi brand luggage is the perfect travel companion with durable bags that can be expanded easily from personal to carryon or carryon to check-in. They also are designed with plenty of zippered pockets to carry important items. Check out Biaggi Hangeroo Rolling carryon garment bag that is also a duffle - unique bag that keeps dress wear pressed perfect while also holding a suitcase worth of items.
Some airlines do not specify a size for a personal bag while others do but generally the personal bag must fit comfortably under seat without sticking out. One will want a personal bag that can accommodate a wallet and passport, laptop, medications, and other personal items. Always pack expensive items, such as jewelry, in personal bag that will always be with one's person.
Totes, backpacks, and laptop carriers are all wonderful personal bags. One will want to make sure that this bag has multiple zippered pockets to keep important items safely stored. The Biaggi Zipsak Micro-Fold Backsak is perfect with its ample storage and pocket accommodations.
The best way to stay organized is to use packing cubes. Packing cubes should have a top that can be unzipped to fold back revealing the cubes contents. These are perfect for travel keeping all packed in place neatly as if a drawer. Multiple cubes should be used to sort clothing items. When one reaches their destination just take cube out and place in drawers with no need to unpack.
Air travel now requires one to travel with liquid items in plastic bottles or tubes no larger than 3.2 ounces. They can be filled with favorite shampoos, conditioners, creams and more. The little travel plastic tubes, along with travel toothpaste and other travel liquids and creams, should then be placed in a TSA approved clear bag that can be easily shown to security agents. Any liquids in larger size containers or not in clear bag will be taken away by security.    
Packing Guide for Toiletries and Health
The following is a packing guide list for toiletries and health necessities to consider for travel. One will want to check destination to see what is available upon arrival as space sucking items such as a hair dryer are commonly provided by a hotel.   
Toothbrush
Toothpaste
Dental floss
Soap (if special soap is needed or know that soap is not provided where traveling to)
Deodorant
Shampoo (often provided by hotels)
Conditioner (often provided by hotels)
Brush or comb
Hairstyling appliances (blow-dryers are usually provided by hotels)
Hair clips and hair ties
Facial cleanser
Face lotions
Sunscreen
Moisturizer
Makeup
Makeup remover
Hair removal aids – razor and shaving cream or wax strips
Nail file and clippers
Tweezers
Hand sanitizer
Bandages
First-aid ointment
Insect repellent
Prescription medications
OTC pain relievers
OTC supplements
Prescription eye glasses
Contact lenses (and solution if not daily type)
Birth control and STD prevention (Males this is for you too)
Feminine-hygiene
Clothing Packing Guide
Depending on where travel will take one will help provide answers for a packing guide of what to take. Try to not overpack and remember that many places will provide laundry - and many items can be hand washed. Keep colors to one or two – black is always good to go with as it can be dressed up or down. With only one or two colors it will keep shoes and belts to minimum.
Coordinate clothing into just five days' worth of fashion for under a week, or one week's worth if going away for more than a week. For a quick weekend one will only need a couple of outfits.
Underwear
Socks
Stockings or tights (if needed for dresses)
Bras
Sleepwear
T-shirts (for men who require undershirts too often these can play double duty)
Dress shirts
Casual shirts
Jeans
Dress Pants
Leggings
Shorts
Dresses (dressy and casual)
Skirts
Sweaters
Sweatshirt
Suit(s)
Sports jacket
Swimsuits (bring one or two)
Swim cover-up
Workout clothing
Coat
Jacket (layering with packable puffer jacket and vest is great for cooler and changing climates)
Windbreaker (perfect for rain protection and lightweight covering)
Hats (Sunhat and/or cap, or bucket hat)
Gloves
Scarves (fashion forward so not just for warmth)
Belts
Ties
Comfort walking shoes
Sneakers
Dress shoes
Sandals
Beach shoes (flip flops)
Boots (hiking, snow, rain or fashionable type depending where one is traveling)
Umbrella
Laundry kit (soap and stain remover)
Laundry bag
Jewelry (place anything valuable in personal bag)
Small pocket book (dress bag if needed)
Collapsible tote bags (perfect for beach or day outing and shopping)