Packing tips
How to Pack Over 100 Items Into Your Carry On!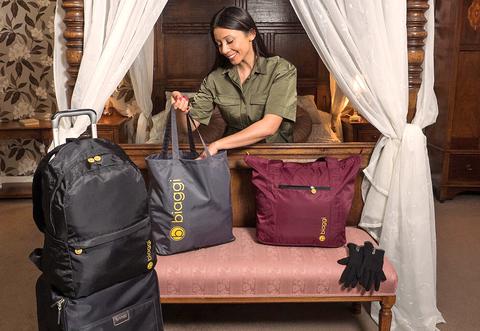 Rachel Grant's incredible "How to Pack Over 100 Items into a Carry On" video was viewed over 1 million times on Facebook in just one day. Rachel used Biaggi's 22 inch Zipsak for her bag of tricks. We asked her how she did it.
A WHOLE BAG OF TRICKS!
by Rachel Grant

I rarely check-in luggage and can travel for months in a carry on. This saves much hassle at the airport, valuable time at your destination, saves you from queuing and paying for check-in fees, makes taxi rides and getting to your hotel much easier, and you'll never have to wait at the conveyor belt again, be delayed from hold luggage issues, or worry about losing and damaging your luggage. But people always tell me they can't fit enough items into their carry on for 1-2 weeks of a summer vacation. I like to travel light, but wanted to demonstrate just how much you can really fit into your hand luggage if you know how. So I made the video!
HERE'S HOW TO DO IT!
7 SPACE-SAVING TIPS FOR YOUR SUITCASE:
1) MAKE YOUR PILE OF CLOTHES SMALLER BY ROLLING AND USING ZIPLOCK BAGS TO HELP COMPRESS YOUR ITEMS. ROLLING CLOTHES ALSO REDUCES HEAVY CREASES. ZIPLOCK BAGS KEEP YOUR CLOTHES CLEAN, ORGANISED AND YOU CAN CLEARLY SEE WHAT'S INSIDE EACH BAG. IT MAKES PACKING AND UNPACKING SO MUCH EASIER!
2) SHOES CAN TAKE UP MUCH ROOM SO AIM TO PICK SHOES THAT ARE LIGHTWEIGHT AND CAN BE FLATTENED. USE RUBBER BANDS TO SQUISH THEM TOGETHER TO KEEP THEM FLAT AND ORGANISED.
TIP: FOR DIRTY SHOES, OR IF YOU WANT TO BE CLEAN, WRAP THEM WITH SHOWER CAPS. MOST HOTELS OFFER COMPLIMENTARY SHOWER CAPS IN THEIR ROOMS, SO MAKE USE OF THEM. SHOWER CAPS ARE ALSO HANDY TO WRAP AROUND YOUR CAMERA (OR OTHER SUITABLE ITEMS) IF IT RAINS WHEN YOU'RE OUT AND ABOUT.
3) IF PACKING IN ZIPLOCK BAGS ISN'T FOR YOU, PACKING CUBES ARE ANOTHER GREAT WAY TO KEEP YOUR CLOTHES COMPRESSED, CLEAN AND ORGANISED. PICK THE RIGHT FABRICS AND YOU CAN PACK A LOT OF ITEMS INTO A PACKING CUBE. PACKING CUBES COME IN MANY SIZES. I EASILY FOLDED A WHOLE RACK OF CLOTHES INTO ONE SMALL PACKING CUBE.
4) BUY TRAVEL SIZED TOILETRIES OR USE EMPTY BOTTLES YOU CAN FILL WITH YOUR FAVOURITE PRODUCTS. INSTEAD OF LUGGING AROUND HEAVY, LARGE BOTTLES FOLLOW TSA'S 3-1-1 LIQUIDS RULE AND CARRY ALL YOUR LIQUIDS IN A QUART-SIZED ZIPLOCK BAG. IF YOU RUN OUT WHILE ON YOUR TRIP YOU CAN ALWAYS BUY AND TRY SOMETHING NEW (AND EXOTIC) AT YOUR DESTINATION.
I PURCHASED A SET OF EMPTY TRAVEL BOTTLES AT THE DOLLAR STORE AND FILLED THEM UP WITH MY FAVOURITE PRODUCTS (ABOVE). LOLLYZIP MAKE AN EXCELLENT, EASY-TO-FILL TRAVEL KIT OF 12 EMPTY BOTTLES AND CONTAINERS CONTAINERS WHICH FIT AND STACK TOGETHER NEATLY.
5) MAKE THE MOST OF SPACE AND FILL YOUR SHOES (IF YOU'RE NOT ABLE TO FLATTEN THEM) WITH ITEMS LIKE FOLDED SOCK BALLS. THIS ALSO ACTS LIKE A SHOE STRETCHER HELPING KEEP THE SHAPE.
TIP: I LIKE TO CARRY ONE SET OF PLAIN HEELS AND USE SHOE CLIPS TO CHANGE-UP THE LOOK OF THE SHOES. IT FEELS LIKE YOU'RE CARRYING MORE THAN ONE SET OF HEELS! HERE ARE SAMPLES:
6) PICK LIGHTWEIGHT FABRICS AND NOTICE HOW MUCH SPACE YOU CAN SAVE. LIGHTWEIGHT FABRICS ARE ALSO EASY TO HAND WASH AND DRY MUCH FASTER THAN HEAVY FABRICS. DENIM CAN BE HEAVY, SO IF YOU MUST BRING JEANS, WEAR THEM ON YOUR JOURNEY. LOOK HOW 2 SETS OF 3 DIFFERENT TROUSERS CAN MAKE A DIFFERENCE WITH SPACE:
7) BEWARE OF EXTRA BULKY, HEAVY ITEMS! PURSES, HANDBAGS AND HATS CAN BE AWKWARD SHAPES AND TAKE UP MUCH ROOM. IF YOU MUST PACK THESE ITEMS, CHOSE BAGS THAT COLLAPSE, ARE FLAT OR CAN BE FOLDED DOWN.
FIND A GOOD SUN HAT THAT CAN BE ROLLED UP OR FOLDED FLAT AND TIE WITH A RUBBER BAND!
AND THESE ARE THE 130 ITEMS I PACKED INTO MY CARRY ON:
10 DRESSES, 8 BLOUSES/TOPS, 3 BEACH/POOL DRESSES, 8 T-SHIRTS/VESTS, 2 NIGHTIES, 4 PAIRS OF TROUSERS, 4 PAIRS OF SHORTS, 4 SKIRTS, 6 PAIRS OF SOCKS, 3 BELT SASHES, 1 CARDIGAN, 5 PAIRS OF SHOES, 2 BIKINI TOPS, 2 BIKINI BOTTOMS, 8 PAIRS OF PANTIES, 3 BRAS, 2 HANDBAGS/PURSES, 1 PUFFER JACKET, 1 PASHMINA/SCARF, 1 SARONG, 1 HAT, 1 SHOE BAG/LAUNDRY BAG, 1 PACKING CUBE, 1 COSMETICS BAG - INCLUDES (TRAVEL-SIZE): 1 SHAMPOO, 1 CONDITIONER, 1 MOSQUITO REPELLENT, 1 SUNSCREEN, 1 FACE WASH, 1 TOOTHBRUSH, 1 TOOTHPASTE, 1 BUNDLE OF COTTON BALLS, 1 BUNDLE OF COTTON BUDS, 1 DEODORANT, 1 COMB, 1 NAIL FILE, 1 HAIR STRAIGHTENER, 1 BUNDLE OF HAIR CLIPS AND BANDS, 1 FOUNDATION, 1 MASCARA, 1 EYELINER, 1 COMPACT/POWDER, 2 BLUSHERS, 2 LIPSTICKS, 1 EYESHADOW PALATE, 1 EYE MAKEUP REMOVER, 1 SET OF TWEEZERS, 2 NAIL POLISHES, 1 NAIL POLISH REMOVER PADS, 1 SHAVER, 1 TRAVEL-SIZED ADVIL, 2 PAIRS OF EARRINGS, 2 NECKLACES, 2 BRACELETS, 1 ELECTRONIC/ESSENTIALS BAG - INCLUDES: 1 SET OF PENS, 1 HAIRBRUSH , 1 CAMERA, 1 CAMERA CHARGER, 1 INTERNATIONAL ADAPTER, 1 IPHONE/IPAD CHARGER, 1 PORTABLE SPEAKER/MUSIC PLAYER, 1 PORTABLE CHARGER, 1 GO-GIRL (SHE-PEE), 1 SUNGLASSES (NOTE: IPHONE, PASSPORT, IPAD, CASH AND CREDIT CARDS CARRIED IN SMALL CROSS-BODY BAG - CALLED A "PERSONAL ITEM" BY AIRLINES)
SO HAVE LOTS OF FUN WITH YOUR WHOLE BAG OF TRICKS! TRAVEL FAR, SAFE, WISE AND WELL! SMILE TO ALL YOU MEET AND BE KIND TO THE ENVIRONMENT. BON VOYAGE!