Packing tips
Can You Pack an Entire Wardrobe Into a Suitcase?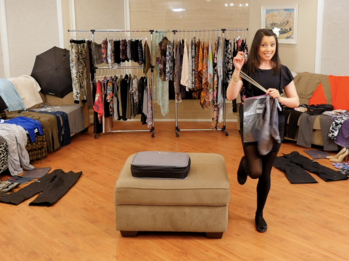 Rachel Grant presents her latest packing feat! It's pure PACKING MAGIC! PREPARE TO BE AMAZED!
Of course, you don't need to pack an entire wardrobe into a suitcase (unless you're traveling for a year) but Rachel wants to prove just how much you can pack if you know-how. Packing efficiently and practically is pivotal to a stress-free trip.
WHAT'S INSIDE HER SUITCASE? HERE'S THE LIST:
2 Large Packing Cubes and 3 ziplock bags contain: 15 Dresses, 14 Blouses, 7 Pairs Of Trousers, 6 Pairs Of Shorts, 3 Nighties, 13 Tops, 3 Skirts, 5 Cardigans, 1 Pair Of Ski Pants, 3 Pairs Of Jeans, 4 Sweaters, 3 Scarfs/Sarongs, 6 Pairs Of Leggings, 1 Sports Jacket, 1 Winter Ski Jacket, 1 Long Sweater Dress, 1 Thick Scarf/Blanket, 1 Hat, 1 Umbrella, 6 Pairs Of Shoes. Total: 100 items
1 small packing cube contains: 4 Bras, 7 Pair Of Socks, 4 Pairs Of Tights. Total: 15
1 Cosmetics Bag and 1 makeup bag contains (travel-size):: 1 Shampoo, 1 Conditioner, 1 Mosquito Repellent, 1 Sunscreen, 1 Face Wash, 1 eye-make up remover, 1 Toothbrush, 1 Toothpaste, 1 eye cream, 1 concealer 1 Bundle Of Cotton Balls, 1 Bundle Of Cotton Buds, 1 Deodorant, 1 Comb, 1 Nail File, 1 Hair Straightener, 1 hair curler, 1 Bundle Of Hair Clips, 4 hair Bands, 1 Foundation, 1 Mascara, 1 Eyeliner, 1 Compact/Powder, 2 Blushers, 3 Lipsticks, 1 Eyeshadow Palate, 1 Eye Makeup Remover, 1 Set Of Tweezers, 3 Nail Polishes, 5 Nail Polish Remover Pads, 1 Shaver, 1 Travel-Sized Advil, 4 Pairs Of Earrings, 4 Necklaces, 2 Bracelets, 1 foldable fan, 1 packet of sea-sickness tablets, 1 packet of Imodium, 1 vitamin tub, Total: 60
1 Electronic/Essentials Bag - Includes: 3 Pens, 1 pencil, 1 marker, 1 Hairbrush , 1 Camera, 1 Camera Charger, 1 International Adapter, 2 Iphone/Ipad Charger, 1 Portable Speaker/Music Player, 1 Portable Charger, 1 Sunglasses. Total: 15 items
TOTAL: 200 ITEMS!!
HERE ARE RACHEL'S SIMPLE PACKING TIPS:
RUBBER BANDS!
Use rubber bands to save space and compress bulky items, clothes or shoes. Rubber bands help keep things organized and are also ideal to keep loose wires on phone charges, curling tongs and hair straighteners together and neat.


Roll, don't fold - and use ziplock bags!
Save-space and reduce deep creases by tightly rolling your clothes instead of folding them. For added organization, use ziplock bags to keep your rolled clothes compressed, clean and easy to pack and unpack. Ziplock bags also make it easy to rummage through your suitcase, so you won't end up with an unraveled mess! TSA are guaranteed to be impressed if they stop and look at your bag - and you'll be through security in a breeze!
TIP: Before packing, squeeze out as much air as possible from the ziplock bags.
PACKING CUBES
Packing cubes are a great space-saving tip and help keep your clothes compressed and organized. Pick lightweight fabrics and be amazed at just how much you can squeeze into a packing cube. Lightweight fabrics are also easy to hand-wash and dry much faster than heavy fabrics. I packed a whole rack of clothes in one small packing cube! Rachel uses a selection of Biaggi's packing cubes called ZipCubes.
SHAKE IT! (MOST QUICK AND EFFECTIVE SPACE-CREATING TIP!)
Once you have successfully packed your suitcase, stand it up on its wheels and give it a good shaking up and down (the more the better) making sure to hit the ground with each shake. This technique gently pushes down all your packed items allowing them to settle deeper into your bag. Then, while still standing, open the top of your suitcase and you'll be surprised at the few inches of empty space you have created at the top. This extra space is perfect for your last minute items or for things you may need to access easily on your journey (e.g. shawl, charging device, headphones.). Alternatively, simply leave this extra space available for souvenirs you pick up on your trip.
BON VOYAGE!