Packing tips
Biaggi Creator Stephen Hersh Leapt into 'Shark Tank' and Won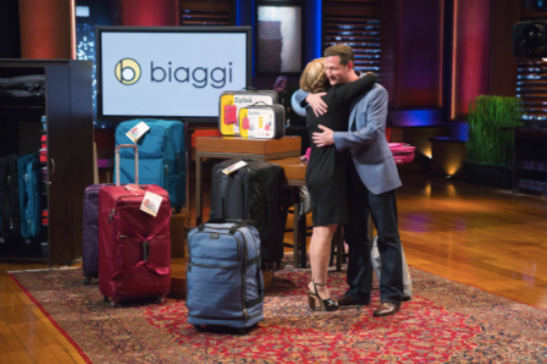 Biaggi ZipSak inventor, Stephen Hersh, has certainly made his mark beyond his original "Shark Tank" appearance in 2014 - wowing shark Lori Greiner with his foldable luggage. The now international entrepreneur, public speaker and CEO of Biaggi continues to expand and evolve his brand of innovative travel bags, with award-winning patents.
Biaggi Backstory Leading to 'Shark Tank'
Hersh seemed fated to follow in his father's footsteps as an innovative bag designer. Ron Hersh founded Rosetti Handbags & Accessories - the first company to design a bag with a cell phone pocket, and a light inside a bag. The younger Hersh stepped into the family's business to help develop new inventive designs for the company that had over 30 years' experience in manufacturing and importing handbags and luggage.
In 2011, The father and son teamed with another partner to create Biaggi – a luggage company featuring a revolutionary travel bag that could be easily stored in minimal space. Inspiration for the bag came from the son's small space apartment living situation.
A patented hinge-lock technology was created by Biaggi to create four-wheeled luggage that folds proficiently for easy storage in a small space. Although the concept was brilliant, the implementation by the partners was not working as hoped - the original luggage proved heavy and expensive. With Biaggi eating away profits Hersh's father and partner stepped away to leave the idea man to paddle the waters alone to stay on course with his Biaggi dream.  
Biaggi Dream Propelled by 'Shark Tank'
Fate intervened when "Shark Tank" asked Hersh to appear on the show with Biaggi. In December 2014 Hersh impressed shark Lori Greiner with his foldable luggage when he appeared on season six, episode 11 of the ABC hit.
Greiner was convinced that Biaggi was worth her investment and agreed to a 33-percent stake in the company for $500,000. Biaggi's Zipsak, a small pouch that transforms into a large four-wheeled suitcase, immediately became a best seller. With the "Shark Tank" win, Hersh saw Biaggi's revenue jump from just $40,000 in 2014 to $3 million in 2015.
As partners with Greiner, the Biaggi creator was a guest on "QVC" and "The Shopping." "Shark Tank" catapulted the Biaggi brand to be a top-selling item on "QVC" along with thriving sales on other additional retail channels.
Hersh achieved so much success with Greiner that he was asked to appear in ABC's "Beyond the Tank." The "Shark Tank" spinoff allowed fans to view how favorite "Shark Tank" entrepreneurs have advanced with their endeavors.
Hersh's remarkable Biaggi story has been featured in several prominent publications including Forbes, Huffington Post, CNBC, and The Wall Street Journal. The innovator continues to grow the Biaggi brand with new inventive luggage and accessory pieces that go from easy storage to easy travel.