Packing tips
Rachel Grant Guides Travel Adventures with Bond Girl Style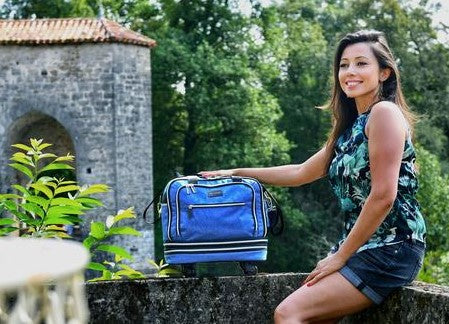 Formally on the big screen as a Bond girl, the audacious Rachel Grant has now been starring as an expert tour guide on the small screen in the real-life Bravo docu-series, "Tour Group." As a co-tour guide starring with Sandhurst Miggins and Brandon Presser the expert guides travel in search of the most exotic, thrilling and exclusive destinations on Earth along with 11 diverse and vibrant travelers in tow. The goal is to discover the world's ultimate vacation.
Grant is Born to Travel on Adventures
Grant was born to travel the world – to be a leader, guide and adventurer. Whatever roles she has chosen to take on in her life, the raven-haired beauty has succeeded fully in.
From birth, Grant was destined to be an explorer of life and aimed to flourish in whatever she put her mind to do. The stunning beauty and humanitarian was born into French royalty with the title The Honorable Rachel Louise Grant de Longueuil. King Louis XIV of France granted the barony title to Grant's ancestor Charles le Moyne de Longueuil to honor him for his North American explorations.
Grant took on dance as a child, and then sashayed her way to become a beauty queen, actress, writer, entrepreneur and social advocate. It is not surprising that along the way Grant also fed her lust for travel turning into an expert in the field. She made unforgettable journeys to six continents and 70 countries and worked as a leader in a thrilling underground river discovery of the uncharted Angel Cave in the Philippines.
Grant Finds Notoriety as Packing Queen and Meets her King
Stephen Hersh was innovating his way to success prior to becoming well-known as the "Shark Tank" Luggage King. The entrepreneur hired Grant in 2012 for a hosting job to represent his Biaggi brand luggage. While continuing a working relationship, romance took over and soon love blossomed - along with the growth of both their careers.
Two years later, in December 2014, Hersh appeared on season 6, episode 11 of ABC's "Shark Tank" and impressed shark Lori Greiner with his foldable luggage. Greiner was convinced that Biaggi was worth her investment and agreed to a 33-percent stake in the company for $500,000.
As Biaggi grew, Hersh relied on Grant's savviness with her charming hosting capabilities to boost recognition. In 2016 the power couple created a viral internet sensation with the video starring Grant, "How to Pack Over 100 Items in One Carry-On." As the video took off, being shared by celebrities such as Oprah and Ashton Kutcher, Grant was soon given the moniker "Packing Queen."
The love the Packing Queen has for the Luggage King shines through in her representation of Biaggi, which, in turn, has elevated Grant's career as well. Beyond her acting and "Tour Group" achievements, Grant's star-turn in the packing video earned her appearances on the "Rachael Ray Show," "Hallmark's Home & Family," and "Good Morning America."
Interview with Grant
When speaking with Grant it is apparent that she is as intelligent, caring and a lover of life as she is beautiful.
Carol Ruth Weber: What first intrigued you in life to go beyond the beauty of dance?
Rachel Grant: My mother drove my three sisters and I into stage performance and dancing. I took acting at same time as dance and really enjoyed performing. From there I went to acting school.
CRW: When did travel become a passion?
RG: My mother came from the Philippines so as a child every year we would take a 36-hour flight to visit her home country. This yearly trip to the Philippines, that took us on a journey through different places, is what drove my passion for wanting to travel. I remember being four years old and coming off of the plane with the humidity hitting my face. I still get goosebumps to this day when I think about leaving England and how thrilling visiting a new place was.
When I was 16 years old I found an ad to apply for a beauty pageant. At 17 I entered a pageant because I wanted to go to the Bahamas. I ended up winning the pageant and got to travel to the Bahamas. The traveling took off from there. Since I have been asked to judge beauty pageants.
CRW: How did extreme exploring fit into your lifestyle?
RG: I get that from my father. It started with extreme cuisine. I started tasting unique food when I was young. My mom would cook traditional Philippine food. Balut, duck embryo, is my favorite. I started doing things that the guys usually would do, like scuba diving. There are a few things that I still can't believe that I did, like discovering a cave in a very obscure place. Now I realize what a dangerous experience it was, but I would probably still do it again.
CRW: What types of extreme travel have you done?
RG: I went with my father to Ecuador five years ago and found someone to take me four hours into the Amazon to meet the Huaorani tribe. We went hunting with them. Even wilder is that I found out after that they had killed a group of missionaries that previously visited them before my trip.
CRW: What are you more comfortable in, couture or a wetsuit?
RG: I want a couture wetsuit. Actually looked up sexy wetsuits but realized it was not practical. When one travels you have to look simple.
CRW: What are your wishes for the future of the world?
RG: I really love to encourage people to travel in order to break down barriers and get to know other people. I want a world where people are more open to other lifestyles, traditions and foods, and culture. Travel brings understanding and openness to understanding.
With her mission declaration, it is obvious that Grant inspires as the perfect tour expert:
"Travel inspires us to enjoy life in a variety of ways, to live it to the fullest and to allow our senses to be excited and tantalized. Life becomes richer, more beautiful and I am always looking beyond."
A Beauty Who Lives Life to Give Back and Enjoy
The fearless Grant takes on life in full force as a spirit of nature not to be reckoned with. As one who has lead expeditions of itineraries to the most exotic locals she has found around the globe, it makes Grant a perfect guide for Bravo's exciting adventure series.
As a world traveler, Grant has become aware of the immense need to help the impoverished communities and people that she has met along the way. This led the wonderful woman to work with philanthropies to specifically give back and help.
As global ambassador for Human Nature cosmetics, Grant aids the Philippines initiative in its efforts of establishing jobs for impoverished Philippine communities. A lover of animals, Grant formed her own enterprise of eco-friendly pet products called Furry Kind, as a partner with Human Nature.  The online store aims to encourage goodwill to all animals, humans and the environment.
When not roaming to some faraway land to explore, the beautiful thrill-seeker is at home in New York writing about travel, as well as designing a line of travel gear.