Packing tips
Travel Sinatra Style with Dream Stay in his Luxury Estate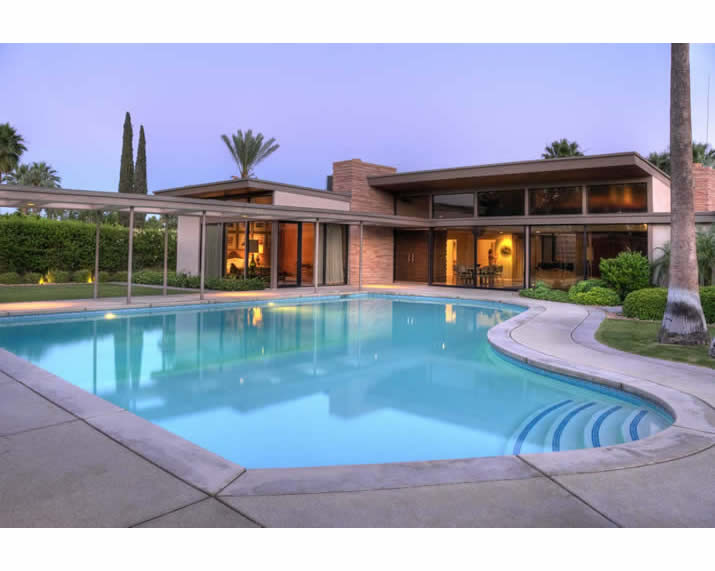 Frank Sinatra's fashion and living are no longer just a dream for those who have fantasized about emulating his high style of living. The California Twin Palms Frank Sinatra Original Palm Springs Estate has been lovingly restored to Ol' Blue Eyes' original dream estate and is open to visitors wishing to rent a dream stay for a vacation or event.
Enjoy a travel adventure Sinatra style of the early swinging 50's when Hollywood was filled with glamorous icons. Step back in time when the handsome "Chairman of the Board" led the pack with sophistication and fun. 
Sinatra's Plush Lifestyle for Rent
Sinatra was as well known for his mannerisms and style as he was for his voice and movies. He was viewed as having a fun life among his Rat Pack buddies dressed to the nines in elegance. The leader of the Pack enjoyed living in high style. Whether a Manhattan Penthouse or a Palm Spring desert estate, Sinatra meticulously had his homes designed for enjoyable and comfortable living as well as ready to entertain the many Hollywood and political royalty to enter through the thresholds.
Live in the plush decor of Sinatra, if only for a vacation, at the Sinatra House which has been restored to its original grandeur ready to welcome guests. Located in the famous Movie Colony neighborhood, just around the corner from residences once owned by Al Jolson, Jack Benny and Cary Grant perfectly describe the stunning local that the home is set in.
"Sinatra House includes a master suite, guest suite, guest bedroom, and an exterior entrance guest room. Each bedroom has an ensuite bathroom with an additional powder room in the great room. The kitchen is the most recent restoration with Viking appliances and St. Charles modern cabinetry which closely resembles the original kitchen design, perfect for culinary creation and entertaining. Twin Palms is also wired with the latest technology, including wireless internet and iPod connectivity to the stereo system which plays sound both in the home and at poolside. Guests can enjoy listening to Sinatra tunes that are available for enjoyment. Memorabilia can be seen throughout the home that was Frank Sinatra's original desert retreat from Hollywood."
Relax into Luxury for a Special Vacation
Sink into the past mid-century, most splendid of time, estate lifestyle. Gather retro design inspiration from the Sinatra House originally designed by E. Stewart Williams in 1947 for Frank Sinatra and his first wife, Nancy Barbato. The estate is furnished with period pieces and extensive Sinatra memorabilia.
"The Twin Palms Estate is a spectacular example of mid-century architecture in the heart of Palm Springs." 
The four bedrooms plus seven-bathroom home within 4500-square feet sleeps up to eight in luxury. The lovely restored residence showcases the vintage designer décor of its day. Most notable is the sound system restored to its like-new quality when it was originally installed by Valentino Electronics in Hollywood.
Among the delightful furnishings, one will feel as if they stepped back into a simpler more elegant era. Take a dive into the uniquely designed famous piano-shaped swimming pool located as a centerpiece surrounded by the bedrooms and living areas.
Pack for a true royal trip with the elegant Biaggi Lift Off collection. These beautiful bags created by the "Shark Tank" Luggage King are ready to pack one's finest attire. Each piece of luggage uniquely expands to a full size up to fill extras garnered from a Sinatra style Palm Springs shopping excursion.
Some unnecessary opulence that is so evident in today's lifestyle could, perhaps, be tossed by remembering the old style of a simpler elegance of the past. Sinatra had the taste, style, and grace that is worthy to be rediscovered for this century.
Feature Image and First Insert Image Courtesy of Sinatra House